Soundlag insulation is made using either glass wool or foam wrapped with a foil covered vinyl. It is used to reduce noice from pipes and ducting. The foil covering on Soundlag is flame resistant, beneficial in industrial, commercial and domestic applications.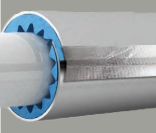 Laggerflex Acoustic Lagging
Laggflex is an acoustic lagging product that is designed to reduce waste noise in commercial and residential applications. It comprises of a nominal 3mm thick rubber and foil composite mass layer bonded with a 25mm thick fire retardant polyurethane foam.